Geopak from Bentley was recently used to create Dubai Festival City, the new central business district for Dubai. The site is located on the banks of the historic Dubai Creek, one of the oldest ports in the world and the birthplace of the modern Emirates. Festival City will offer a mixture of entertainment, business, shopping, sport and leisure facilities, including a par 72, 18-hole golf course designed by Robert Trent Jones LCC.
The site
LC Consulting was commissioned for the land, soil investigation modelling and design of the bulk earthworks to create a complete new city centre out of a relatively flat site.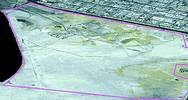 The site
The project involved detailed setting out of the bulk earthworks for the new golf course, manmade lakes, various building platforms, landscaping topology and a manmade hill for residential development.
The challenge was on, 8 million cubic metres of fill material had to be handled and stockpiled on the 617 hectare site with a minimum amount of double handling as possible. All the fill material was imported from the new airport terminal excavations which were on the go at the start of the project. One 18 m3 truck offloading fill material every 30 seconds 24/7, with a half day rest period on Fridays, the fill material was coming in fast!
Phase 1
Geopak Site allows one to handle with ease live 'what if' scenarios with the client and other design team members. Changes to layouts and levels were easily accommodated well before any of the fill material could be misplaced or removed on site.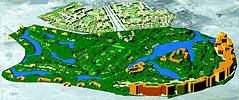 Phase 1
All quantities were kept in check using two models, design and as-built, with regular checks to variances and work done to date.
The soils investigation reports were also entered into the model using the Geotech tool which allowed cut material quality and quantities to be kept in check and recorded with any changes happening on the site layout. The balance of the fill material was then easily adjusted over the rest of the site.
Geopak Geotech tool also provided soil profiling for the structures department allowing them to accurately determine lengths of piles and types of foundations needed for each particular building in the different zones over the whole site. This was done with separate contour plans for each soil class and sections showing the soil profiles through all structural developments.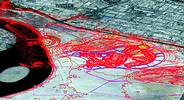 The Geopak site model comprises of approximately 620 000 triangles, 350 No. borehole data, various design option models and an as-built model.
During the design process the Geopak model was exported at sign off stage and used by the whole design team, the earthworks contractor, and the client. This ensured that all had the correct version of either/and the design levels and the as-built information, which allowed for a more integrated design approach to the project.
For more information contact Bentley Systems, 011 462 5811.