South African companies involved in today's many and varied design and manufacturing industries face the challenge of having continually to respond to the ever-increasing pressures of global competition. Never before has the need to improve productivity standards, invest in new technology, and keep costs down been as vital as it is now.
Currently, many local suppliers are losing out on supply contracts because OEMs award their projects to overseas suppliers who use superior technology and can produce and deliver parts quicker and more cost-effectively than South African suppliers. Many tooling projects, for example have been lost to Asia as a result of inefficiencies in South African industry. A spokesman for Naacam recently reported that about two thirds, on average, of parts used in local assembly are still exported instead of being incorporated into locally manufactured products.
CAD/CAM technology is constantly changing, rapidly improving and re-inventing itself. The industry is moving away from 2D drawings and physical prototype models and is instead aiming at manufacturing products 'First-time right' through digital simulation. This advancement in the industry has left little room for companies that do not keep up-to-date with the most modern innovations and technology.
Catia is a suite of CAD/CAM software products that is part of a complete range of PLM (product lifecycle management) solutions from IBM and Dassault Systèmes. Catia, together with Delmia, Smarteam and Enovia, covers the complete process of design, simulation, manufacture and beyond and allows companies to optimise efficiency with minimal errors. Catia is continually evolving and is unmatched by its competitors in the key areas of design and manufacturing functionality, innovation and regular updates. Catia has established itself as the de facto standard amongst OEMs in the automotive, aerospace and shipbuilding industries, most of which will award their projects only to suppliers who also use Catia. It is also the system of choice for numerous other leaders in a wide diversity of industries.
In the aerospace industry, for instance, Airbus Industrie - now the world's leading aircraft builders - have migrated their A400M, A380F and A380 aeroplane design processes to Catia, so as to reduce data exchange activity and subsequent rework. They also saw that significant time, cost and quality performance improvements could be gained through its use. In all their programmes, Airbus prefers to share data with its suppliers using common data processes and tools. Airbus has indicated that it ultimately intends to stop dealing with suppliers who do not have Catia but instead have to make use of data conversions.
The South African industry has received contracts for the design of a portion of the A380 fuselage; because all the component design data needs to be incorporated into the entire aeroplane design, having Catia was a prerequisite for awarding this business. The vice president of Airbus Concurrent Engineering comments that "deploying common methods and processes based on a common set of tools across the whole entity is a major driver to harmonise the development processes in Airbus. This will reduce development time and costs significantly from the very beginning of the project."
In the air
Facing such threatening overseas competition in the aerospace industry, leading contenders in the SA aerospace sector soon realised that they could no longer settle for unreliable and outdated technology: in order to win projects they would need to ensure that they used the same cutting-edge, sophisticated technology as the OEMs. By having the necessary Catia facilities and skills, and through their vigorous implementation throughout all processes, these companies managed to prove their complete process capabilities and deliver better quality products at a lower cost. As a direct result, they are regularly and consistently being awarded projects from Airbus.
Denel Aviation received an extensive order for components for the BAE Systems' Hawk lead-in fighter trainer. Although built in the UK, the first Hawk was constructed using South African components. The local Aerospace industry will benefit from the $2,2 billion contract for the delivery of 24 Hawk fighter planes to the South African Air force, a contract put in place in 1999 with BAE Systems. The South African Public Enterprises Minister commented on the government's keenness on making South Africa a centre for aerospace manufacture.
Another prominent South African aerospace company recently forged a $100-million strategic alliance with UK aerospace and defence group, BAE Systems, and has become the exclusive supplier of crucial wing components for the Airbus A320-family of products. The announcement of the world's biggest single aircraft order of 2005 means a sustainable flow of business from this and other local suppliers producing wing components in support of Airbus' plans to deliver about 240 A320-family aircrafts a year. The South African company is currently preparing to supply components for the A400M (a tactical cargo plane from Airbus), which will include the design and manufacture of composite materials and avionics. The fact that the A400M contracts were awarded to local enterprises is a strategic breakthrough for the South African aerospace industry.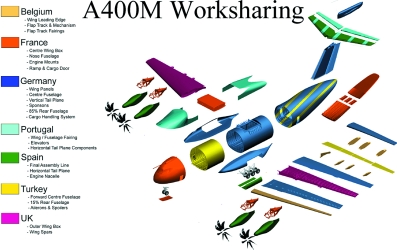 The South African aerospace industry has a 4,5% share in the design, manufacturing and maintenance of the A400M tactical cargo aeroplanes from Airbus for the duration of the program over the next 30 to 40 years. Minister Alec Erwin said earlier this year that the A400M program will lead to the rebirth of the aerospace industry in South Africa. South African participation in the production processes of the A400M is expected to bring in revenue of some 430 million euros.
On the road
In the automotive industry, standards are equally high and the competition worldwide even more fierce. Companies like Toyota now insist that suppliers that they deal with use Catia in the design and manufacturing of parts and tooling. Toyota, which is implementing Catia in the new Corolla project in South Africa strongly support the use of local content, provided that it is economically viable and meets all the stringent international quality standards. Fortunately, the industry is kept alive by local suppliers such as TDM, Comau and Smiths Plastics, who will not compromise on quality and constantly offer a challenge to other suppliers locally and worldwide by keeping abreast of the latest industry and technological developments. As a result the new Hilux pickup truck went into production with the highest number of local components for a South African-produced Toyota ever. Toyota South Africa's senior vice president reported that some 1600 local components are sourced from 78 suppliers within South Africa.
DaimlerChrysler, situated in the Eastern Cape are making extensive use of Catia's process-simulation technology, resulting in accelerated product development cycles with drastically reduced effort. A Port Elizabeth engineering company was awarded a contract to design and produce highly specialised replacement parts for a large automotive-component supplier: the company has facilities for the design of special-purpose machinery and equipment through the use of Catia technology. The operations manager of the company concerned states, "We were delighted to have been afforded this challenge and our client had the necessary confidence in our technical abilities as well as our capacity."
With Catia's flexible and concurrent design capabilities, companies facing changing and challenging business conditions with demanding schedules can work as a team using collaboration design. These companies are able to reduce product development cycles by up to 20% and cut product costs by nearly a fifth resulting in increased productivity and giving them a distinct competitive advantage. Companies that have Catia and invest in Catia skills have the advantage of being able to compete for and win business that would otherwise have been out of their reach.