Haas CNC Services SA (Haas) is a supplier of CNC Machines to South African toolrooms and an agent of machine tool builder Haas Automation. Haas SA recently joined forces with CDC (CNC Design Consultants), supplier of Catia engineering software solutions and authorised IBM Business Partner in South Africa. This dynamic combination of software and machine tools will bring South Africa's manufacturers in line with the world leaders and enable local companies to compete on an equal footing with their foreign competitors for a slice of the valuable world tool-manufacturing market.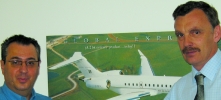 Igal Filipovski, CDC and Johan Pieterse, Haas
Using Catia Version 5, Haas will demonstrate to its customers the virtual manufacturing process of their product(s) using Haas CNC machines. Catia's NC manufacturing solutions can rapidly simulate, validate and optimise NC machine processes, making it easy for programmers or machinists to visualise the machining process in 3D. Detection of programming errors prior to physical machining of a part can prevent damage to the machine, allow tool paths to be optimised and reduce rework to a minimum. Catia enables quick and accurate geometry modifications to the part that the tool is to produce - this functionality alone is a real advantage, providing the ability to deliver fast quotations, which can enable a company to get and stay ahead of its competitors.
Ultimately, the extensive range of Haas CNC machines (which includes vertical and horizontal machining centres and rotary tables) will be captured in Catia, in accordance with Haas product specifications, and stored in file-based tool catalogues for use in future virtual simulations.

A Haas machine captured in Catia, in accordance with Haas product specifications
Haas, which currently has over 220 customers and close to 500 of its CNC machines installed in South Africa and sub-Saharan Africa, is aiming to expand its presence in the local market.