The information flow for a building begins when a developer hires an architect to draw the plans and an engineer to certify the structure. Then the developer sends hundreds of two-dimensional drawing plans, elevations, and sections to general contractors for bid. Contractors expect delays in the construction process due to design errors, so they often pad their bids with contingencies of up to 15%, adding to building costs.
But what if there was a different way to do it? Expert Framework Extension, or EFX, is a Pro/Engineer module that saves money two ways: by modifying the information flow to identify errors in the drawings before they are sent out for bid, and by providing a truly rapid prototyping tool.

Figure 1. Looking up through three floors of the hospital shows how the beams connect. Yellow beams indicate areas where the design was unclear
Modified information flow
James Kolozs is an engineer for a company that develops building prototypes. He used EFX to create a three-dimensional model of a hospital from the design drawings before they were sent out to bid. Once Kolozs and his team assembled the model, they discovered a set of beams unconnected to the rest of the structure. Without EFX, this error would have been discovered on-site. The general contractor would have to identify the problem, contact the architect and engineer to redesign, order new beams and connectors, and wait for the materials to arrive, adding a delay in construction along with the cost of fixing the problem.
When James and his team found this problem in the model, they invited the architect and engineer to a Web session. Using Product View, all three could see the unconnected beams firsthand in the three-dimensional digital prototype. The problem was resolved before materials were ordered and construction began. Producing an accurate bill of materials and drawings free of design errors, while reducing construction delays, produced a win-win situation for both the developer and the general contractor.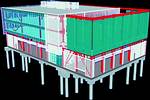 Figure 2. Materials are colour-coded in this perspective of the central utility plant for the hospital
Rapid prototyping
Engineering best practices are embedded right into EFX by allowing you to follow top down design procedures and maintaining structural interrelationships as you work, without inhibiting your ability to make changes. First, you sketch a skeleton, then select and 'hang' structural beams to the curves or points. As you add detail, you can offset beams or rotate them, swap one beam size for another, or change the beam profile completely, while the model remains parametric. The software automatically updates other beams, connections, and joints relative to each other, reducing the time you spend on repetitious task. You literally snap together your design.

Figure 3. Detail of a miter joint and a connection with shear plates in green
Seeing the big picture
With EFX, you can create the best design in the shortest time. In reviewing his work experience with EFX, Kolozs specifically mentioned the capability of adding his own assemblies to the libraries, instead of creating the same connections or joints over and over. "The software is extensible, that is what I like," he says. Because the model maintains a cohesive profile, other tedious tasks, such as renaming parts, adjusting lengths, and reassembling with each modification, are eliminated. Beam and assembly drawings, along with the bill of materials, automatically update as you make changes.
EFX is fully integrated with the rest of Pro/Engineer, allowing you to check systems against each other. For example, by viewing the HVAC subsystem and the superstructure, areas where ductwork might collide with steel become obvious. You can reroute and order the right materials long before the subcontractor is on-site.

Figure 4–6. Three views of the hospital show the flexibility of rapid prototyping
It took only three weeks for three people to model a nine-storey hospital using 4 million pounds of steel. In that time, the team generated three gigabytes of data in EFX. As the lead engineer, Kolozs set a goal of zero errors, which his team achieved. As they make changes and regenerate the model, it still has zero errors. "Using EFX made it possible to achieve this ambitious goal," Kolozs explains. As building owners and developers see the savings and efficiency in rapid prototyping before construction, more of them will want to use EFX to find design errors up front
Kolozs adds, "Anyone involved in large machines, construction, ships, cranes - any kind of structural design - should be using EFX. The ease-of-use, elimination of tedious tasks, speed, and responsiveness is indispensable."
For more information contact Dayne Turbitt, productONE, 012 673 9300.