Autodesk has launched its new VIZ 2006 3D modelling, rendering and presentation software, available from Aisel Systems.
Design professionals use Autodesk VIZ throughout the design process to develop and explore concepts and alternatives; communicate design intent to clients, colleagues and consultants, and validate designs to help ensure their accuracy. Autodesk VIZ software accommodates whatever level of visual representation is required from realtime studies to photorealistic virtual prototypes to compelling multimedia presentations.
Preliminary Conceptual Modelling allows for the creation of design forms directly in Autodesk VIZ using advanced modelling features, and then lets users transfer work smoothly into their CAD environment or other Autodesk applications for further refinement and precision drafting.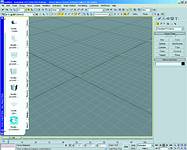 With VIZ illumination rendering technology one can capture subtle lighting effects such as indirect illumination; soft shadowing and colour bounce that make renderings come alive with stunning realism. Renderings are accurate, so users can better evaluate and communicate what their design will look like under varying conditions.
Autodesk VIZ 2006 builds on its tradition to improve the creation process, streamline everyday workflow and produce compellingly realistic visualisations.