The challenge for all companies moving forward is to achieve the basic mission and goals as defined by the brand strategy and value metrics of the business. Time, cost, and quality remain as foundation metrics but, increasingly, the issues of global enterprise collaboration and intellectual capital management have come to the forefront. The central need that has driven this shift is innovation – both in business processes and in the new products coming into an increasingly competitive market.
Product lifecycle management (PLM) has responded to this shift, emerging as the most strategic business initiative and critical IT investment focus. Other IT investments (ERP, SCM, CRM) over the past two decades have focused on optimising the costs of producing a product. PLM is gaining prominence in leading corporations to focus on top line revenue growth, as well as direct product cost through sponsoring innovation and delivering the right product to the market at the right time.
PLM provides the basis for significant business transformation - minimising the cost of product development and maximising lifecycle revenue to yield increased profits. A repeatable environment is established for innovation incubation based on the product and process changes that are enabled by the fundamentals of PLM. Knowledge becomes a corporate asset and establishes strong brand DNA and brand value.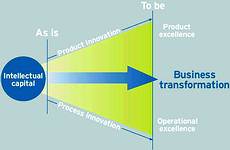 PLM provides the basis for significant business transformation
EDS PLM Solutions has focused on sustaining an environment to translate an enterprise's core competencies into product value for its customers. This environment spans the creation of innovative new products, effective mid-life product refresh, and quick responses to market changes. Increasingly, with aftermarket opportunities across the whole product portfolio becoming a significant issue in some product lifecycle strategies, the extension of the environment to provide lifecycle knowledge 'closed loop' is critical. The breadth and depth of EDS' enterprise solution portfolio for PLM touches every stage of a product's lifecycle and enables the digital transformation process. NX and Solid Edge help plan and define a product or a platform of products. E-factory supports the building, planning and execution of a product. Teamcenter solutions provide the foundation solutions to plan, define, build, and support products on top of the enterprise digital backbone, enabling end-to-end product knowledge management and collaboration.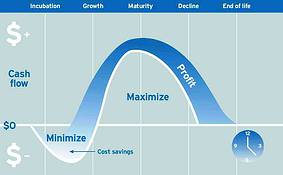 EDS' enterprise solution portfolio for PLM touches every stage of a product's lifecycle
Transforming knowledge to innovation to value, Teamcenter is the PLM digital enterprise backbone, uniting product knowledge with process innovation to deliver business value at the highest level - profitability. Teamcenter is a portfolio of configurable lifecycle domain and industry solutions, backed up by EDS' service delivery excellence to bring customers proven 'product lifecycle value'. Teamcenter provides the basis for enterprise-wide knowledge management. By effective capture, management, distribution and re-use of intellectual capital, Teamcenter provides a comprehensive intellectual asset management system. In addition, it provides a backbone for creation, collaboration and innovation which is effective and dynamic. This unique combination of information management and collaboration enables targeting of exactly the right information to the right people at the right time.
Teamcenter's strategy is to build on a robust scalable foundation and to provide the rich application modules that have made it the most used product lifecycle management system in the world.
* Teamcenter Community improves product innovation by enabling collaboration across the extended enterprise in a rich, realtime environment.

* Teamcenter Engineering accelerates the development of new products by streamlining engineering processes for improved time to market.

* Teamcenter Enterprise increases business value by leveraging all of the product information and configurations needed to support the entire product lifecycle.

* Teamcenter Integrator provides extended enterprise-wide access to all the diverse information needed throughout the product lifecycle.

* Teamcenter Manufacturing streamlines manufacturing operations, enabling the extended enterprise to use the single pre-production environment.

* Teamcenter Project synchronises tasks and work schedules on an enterprise basis and optimises resource allocations by managing the skills mix.

* Teamcenter Requirements ensures that product market customer and regulatory requirements align with the design content.

* Teamcenter Visualization provides a CAD-neutral collaborative environment to configure, digital mock-up, virtual publish, and ergonomically study new product ideas.
Delivering proven value
"Teamcenter has proven its value in major manufacturing companies around the world by pulling together the planning, development, fulfillment and service processes to further each company's mission and strategies," says Cobus Oosthuizen of ESTEQ Design, South African distributor of EDS PLM solutions products. "As a knowledge backbone, Teamcenter has proven its ability to provide a scalable structure for idea incubation and innovation management. From the world's largest automotive companies like GM and Ford to the small specialist enterprises in the machinery and equipment supply chain, Teamcenter is delivering proven value.
"Its foundation powers one of the world's biggest aerospace and defense programs, the Joint Strike Fighter (JSF), and manages the 'right to market' strategy for many shortcycle consumer goods," Oosthuizen continues. "It is upon this proven foundation that Teamcenter delivers the next level of value. The knowledge management and collaboration core of Teamcenter enables a suite of domain and industry solutions that support the complexities of the product lifecycle while delivering value. They can transform current approaches to innovative processes to ensure effective and accelerated decision-making and accelerate new product introductions - get the process right and the products will follow. The focus of Teamcenter is 'fast time to value.' It enables business improvement by consistently impacting top line and bottom line results and ensuring enterprises are achieving the goals of an effective and efficient business - the right products to market at the right time."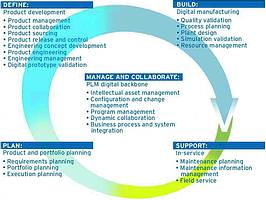 Teamcenter's business process domain solutions streamline processes throughout the product's lifecycle
Business process domain solutions to optimise the product lifecycle
The modular Teamcenter architecture allows precisely those tools needed to solve specific business domain problems to be brought together and delivered as domain solutions. Ready to use, ready to deliver value, using proven best practices and, using proven technologies, domain solutions can be combined to provide a total solution for, say, the whole product development domain and can either be built up to provide a PLM knowledge backbone or clipped on to an existing Teamcenter backbone.
Industry packaged solutions further enhance business value with embedded industry specific best practices included in the way Teamcenter solutions work. They are production-ready and leverage EDS' experience of those industries and how to deploy solutions successfully and fast. These industry packaged solutions leverage the basic Teamcenter core of domain solutions, which EDS has aligned with how most companies are structured. Developed in collaboration with industry leaders, they are defined in the language of key processes or tasks and address the needs of critical corporate functions.
"Teamcenter offers the only set of solutions that covers the whole product lifecycle, both with domain solutions and a comprehensive knowledge repository solution or PLM backbone," says Oosthuizen. "These solutions leverage EDS' experience in streamlining processes both within a company and across its extended supply chain."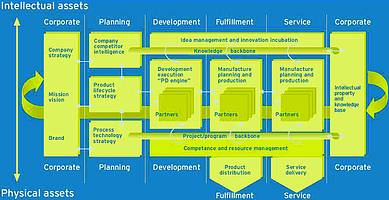 Teamcenter's knowledge management and collaboration core
Embedded collaboration built on an open, modular platform
Teamcenter collaboration technology is one of the key enabling technologies that make up the modular platform. Its leading collaboration tools and visualisation standards are increasingly embedded in Teamcenter solutions. The combination of these applications and Teamcenter's Web services has produced a more integrated and embedded collaboration platform across the solution suites. Collaboration can be leveraged anywhere across EDS PLM solutions. For EDS customers, this leads to innovation through realtime collaboration, the sharing and exchange of expertise, effective engineering re-use and, where necessary, full follow-the-sun 24-hour product development.
EDS' open, modular strategy flows through the products today and is a foundation for its vision and standards-based direction as a company. For customers this secures their investment both for their current systems and their flexibility going forward. Using industry standards like J2EE, .Net, XML, CMII, EDS provides a configurable industry data model, workflow processes and templates that aid integration and transformation.
Teamcenter solutions are and will continue to be strongly differentiated in the marketplace. This differentiation is focused on enterprise value at all levels. Teamcenter is the proven leader in market presence, has the largest install base, is in production on a large scale achieving measurable results in customers' terms. EDS PLM Solutions is recognised as a 'thought leader' while backed by the leader in IT solutions, EDS. EDS offers the full breadth of service solutions from executive consulting through delivery to PLM outsourcing. EDS has the largest group of PLM delivery specialists and a proven methodology to deliver fast time-to-value and a service excellence dashboard to monitor and secure success.
For more information contact Cobus Oosthuizen, ESTEQ Design, 012 991 5570,
www.esteq.com