There are probably few people as enthusiastic about a technology as James Grimes is about IBM and Dassault Systèmes' set of product lifecycle management (PLM) solutions.
Grimes, senior design engineer at the design outsourcing boutique, Grimes Industrial Design, sees his company's success as proof positive of IBM and Dassault Systèmes' claim to be serving the needs of small and medium-size businesses (SMBs) by helping them meet the demand for shorter product development cycles and lower costs.
A president and CEO of several corporations, Grimes has worked in the marketing and manufacturing sectors using his physics and mechanical engineering background to develop products ranging from military components and consumer goods to automation tools and medical devices. In the process, he has built a reputation for coordinating product design and manufacture from creation to final production.
Grimes established GID Development Corporation in 2002. The company now has 10 employees and generated $1,5 million in revenues in 2003, up 45% from 2002. GID handles design, engineering and manufacturing - all in-house. With the corporate motto 'Get it done', GID boasts that it can take any idea from concept to marketplace.
And the company appears to be doing just that. In the past three years GID has helped inventors take two new products to market with CATIA V5 - an innovative new orthopaedic heel support and a new clamp-on skate that Grimes and company hope will revolutionise the roller skating industry. Grimes has helped the innovators of both products take an idea from a napkin sketch to the production line in a matter of months while keeping the cost of the product competitive.
An investment in the future
Grimes began using CATIA V5 with Release 3 and would agree with critics that V5's earlier releases deserved their reputation for being hard to learn and difficult to work with. But by R7, says Grimes, CATIA V5 had become a true PLM tool and the software of choice for CAD design. "IBM and Dassault Systèmes are the 'Swiss Army knife' of technology providers for small manufacturing businesses that have big dreams, but not a big budget."
Though Grimes admits CATIA PLM could be seen as a steep up-front investment for a small company, he says that CATIA V5 has been worth the price - giving his company the competitive advantage of shorter development cycles, lower costs, and document-sharing capabilities that have allowed GID to go "way beyond expectations for a small enterprise".
Skate of the art
Grimes is particularly excited about the commercial potential of the Vertical Skate (VSK8), his recently patented roller skate that was designed in less than nine months using CATIA V5.
Like other 'quad' skates, the VSK8 has four wheels, two pairs set side by side. Quad skates are what most Baby Boomers learned to skate on at roller rinks, but quad skating has been eclipsed in the last few decades by in-line roller skating, which became hugely popular in the late '90s.
While inline skates' single line of wheels can provide greater speed on a straight course, quad skates are easier to turn. Quad skating has continued to have its fans over the years, some of whom have taken the sport to extremes. Some 'aggressive' skaters are taking their quad skates onto vert ramps and bowls, achieving the tricks we are used to seeing skateboarders perform. Aggressive quad skating ('extreme' skating on quad roller skates) is sometimes called vertical roller skating.
The VSK8 differs from other quad/vertical skates in that it is clamped onto street shoes. VSK8 creator Reynald Chaput, a former toy designer, intended the VSK8 to be easy to use but also to have enough performance capability to appeal to both recreational and aggressive skaters. According to GID, the VSK8's rigid chassis design, low centre of gravity, and dual articulating axles (which allow wearers to turn and glide effortlessly by leaning in the direction they choose) provide better performance than other quad or inline skates. (See Figures 1 and 2).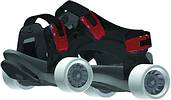 Figure 1

Figure 2
With their revolutionary skate, Chaput and Grimes hope to repeat the success of the 'Rollerblade' brand of in-line skates and skating accessories, which by 1997 had become a billion dollar international industry.
Overcoming a design challenge
In 2001, Chaput was attempting to design the VSK8 on Master CAM software, which he had used for years. Unable to achieve his styling and functional design goals, he turned to James Grimes, with whom he had worked on another design project. Grimes introduced Chaput to CATIA V5. Grimes was confident that he could accomplish Chaput's design goals for VSK8. Furthermore, Grimes' excitement for the potential of VSK8 resulted in a joint venture with GID that brought in a third-party investor to provide the required financial support.
A particular challenge that CATIA V5 overcame was the VSK8's unique self-articulating wheels and axles, which provide unprecedented mobility to novice and extreme skaters alike.
"My motto is 'Get it done', but my previous CAD software's motto was 'You cannot do that'," Grimes noted in a press release.
Utilising the full capabilities of the 3D Virtual Design provided in V5, Grimes was able to simulate the functionality of the self-articulation for the wheel/axle assembly in conjunction with the unique torsion block suspension system. Many design iterations of these features were thoroughly evaluated in 3D and virtual reality prior to committing to model fabrication. See Figure 3.

Figure 3
Working on an IBM M Pro IntelliStation, Grimes and Chaput completed the design and fabrication of the injection mould tooling of the VSK8 'wing' assemblies from napkin to flash-free parts in three weeks.
Prototyping and testing
With ENOVIA's digital mock-up capabilities, Grimes was able to test the skate virtually, reducing costs for prototyping errors. To then produce a physical prototype, Grimes used add-on modules from MSC.Software, an IBM and Dassault Systèmes Business Partner, to create the design for the injection moulds.
Grimes was able to output detailed instructions for the moulds, which he transmitted to a fabricating facility in China that made the tooling. "For a cost of $6000, I got back parts with absolute tolerance," said Grimes. "CATIA V5 gave me the level of documentation I needed to have the job done at a bargain price."
Grimes said he plans to redesign the next generation of the vertical skate using what he learned developing the current model in CATIA V5. Thanks to PLM, he estimates that the next design will be done in a third of the time, as he will be able to accelerate the development of the new design based on the data from the previous one. See Figures 4-6.

Figure 4

Figure 5

Figure 6