Today, the automotive industry faces conflicting demands for innovative product concepts at continuously shrinking price premiums. Competition is further exacerbated by overcapacity and the resulting incentive wars, forcing automotive clients to find new ways to reduce product and manufacturing costs.
These demands from the automotive marketplace have caused a shift in the product development strategies of the OEMs. In a move to remain competitive, many OEMs have resorted to outsourcing a large amount of design and manufacturing work. In so doing, they have repositioned themselves as customer-focused market players instead of design and manufacturing experts.
This repositioning has consequently led to an increased reliance on the Tier 1 suppliers. With increased reliance comes increased pressure.
Because of these new market changes, today's automotive suppliers are facing a significant shift in responsibilities: while their share of the design and development responsibilities has increased, there is a concomitant expectation that costs will decrease. While it is logical that cost and productivity improvements need to compensate for additional feature costs, there is, nonetheless, still an expectation that this additional responsibility will be achieved with the same - if not less cost - to the OEM.
This pressure, or dreaded vice syndrome - shown below - has led to suppliers adopting different strategies. There is an increased focus on suppliers becoming leaner, as well as a push for heightened investment in rigorous PD processes which focus on innovation in close collaboration with OEM customers. Due to these emerging market pressures, they are also required to be smarter when it comes to the strategic position of their origination, based on an optimised match between product and customer portfolio.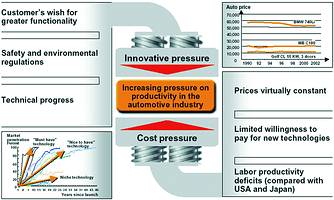 Graphical representation of the competing pressures that today's automotive suppliers face
This situation has a direct impact on the tools that suppliers choose for product development. D.H. Brown recently completed a compelling study that investigates the automotive CAD strategies and the impact this will have on the PLM structure in the future.
The OEM position
In the past, OEMs have employed a single CAD tool to develop their vehicles and have demanded that their suppliers work with the same design suite - and often the same software revision of the tool. Tier 1 suppliers reacted accordingly to support their OEM customers.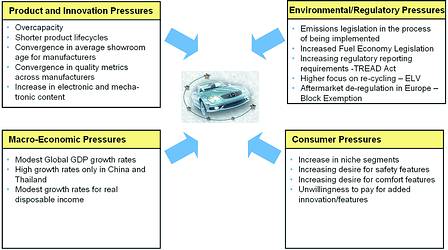 Market pressures faced by today's OEMs
However, today, important shifts are taking place regarding CAD platforms. Most OEMs are currently employing four primary CAD brands in their arsenals: CATIA (both V4 and V5), UGS (Unigraphics and Unigraphics NX), UGS PLM Solutions (IDEAS) and PTC's Pro/ENGINEER. This consolidation among CAD vendors has caused an interesting shift within the OEM market sector as well, not to mention the impact this is having on the supply chain.
With three of the top five OEMs now supporting multiple CAD systems across functions like Vehicles Engineering and Powertrain - as well as across platforms - an interesting concoction has been created which dictates that the support for multiple CAD systems, even at the OEM level, is now a reality that must be accepted.
Balancing the approach
The reality of these multiple CAD systems now being deployed within the OEM environment - and even further through the supply chain - has led to OEMs seeking an alternative approach to collaboration with their suppliers who, in the past, had the luxury of being able to dictate a CAD choice. In fact, this - coupled with the shift of responsibilities in product development - has caused the OEMs to focus their attention at a higher level of interoperability.
A number of large OEMs now support a strategy of openness and abstraction with lightweight visualisation technology. Daimler-Chrysler, Ford Motor Company and General Motors, for instance, have tempered their previously rigid demands for the exchange of only native CAD data files. In fact, they have endorsed the use of UGS PLM Solutions JT visualisation format for data sharing across the enterprise.
This has come as a relief to suppliers who are now free to choose the system that best suits their business, and allows them to achieve the cost and productivity improvements that will fund this additional development responsibility. It also provides them with the confidence that they perhaps need to integrate with an industry standard when dealing with the OEMs. European OEMs also broadly support the industry standard ISO STEP formats for data sharing.
Impact on Tier 1 suppliers
But arguably the most critical issue facing suppliers today is how to continue to deliver against the expectations of the OEMs while continuing to reduce cost of the overall product. Obviously the tools chosen and the strategies adopted by these suppliers will have an impact on these considerations.
D.H. Brown's research indicates that two distinct CAD strategies have emerged within the Tier 1 community. The majority seems to favour a primary CAD methodology, where a supplier chooses a single CAD system that suits its needs and accepts the burden of data translation for each of its OEM customers. The second approach is the 'multiCAD' approach where a supplier will maintain separate organisations, each trained in the CAD tool of choice for a particular OEM, thus avoiding the need for data translation.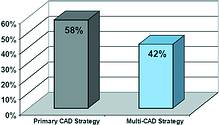 Breakdown of Tier 1 suppliers interviewed in D.H. Brown's research study
Suppliers who follow the Primary CAD strategy most often cite the benefits of a singular focus that allows for knowledge capture and reuse. They also report more control over dealing with software upgrades and multiple OEM customers who run different systems. The downside is that they must become adept at data translation. However, these suppliers indicated that it is now often easier to convert data than being forced by the OEMs to change or upgrade software to keep in synch.
The opposing camp which follow a multiCAD strategy most often cite the ability to specialise in each tool. They emphasise the avoidance of data translation. In addition, many report a 'better relationship' with their OEM customers - although they lack the ability to measure a tangible benefit.
In today's environment of consolidation it is becoming increasingly important to be able to service multiple customers. This is especially true in the automotive supply chain. In addition to this required flexibility, cost pressures are such that suppliers can no longer afford to keep multiple CAD systems and, therefore, need to choose a strategy that is most cost-effective for their particular development environment.
However, irrespective of which approach they take, Tier 1 suppliers collectively report 'having to live with' the requirement of delivering native CAD data to their OEM customers. They have given up trying to change the OEM mindset. However, both camps continue to peruse improvements based on new technology to minimise the impact within their own organisations. Proponents of both strategies look forward to lightweight visualisation data as a means to collaborative communication with their OEM customers.
Surprisingly, due to the likely strain all the Tier 1 companies are experiencing in dealing with the delivery of native CAD data to their OEM customers, they have not demanded the same from their own suppliers lower down in the supply chain.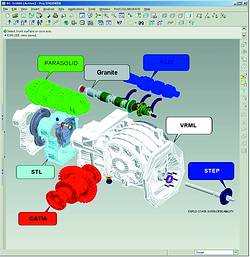 PTC's interoperability strategy is driven by it's large presence in the Automotive Tier 1 supply chain. These customers work with all the OEMs and hence have a need to handle data from multiple CAD systems
As this market evolves, multiCAD integration and cost improvements will become the defining criteria for an automotive supplier's choice of CAD strategy. Industry leaders such as VW, BMW, Hyundai, Fiat, Volvo Truck, Daihatsu, Hino Motors, Tata Motors, ZF, Mannesman AG, Visteon, Robert Bosch, Eaton, Dana, AVL and Cummins have selected PTC based on the business benefits provided by Pro/ENGINEER.
Dayne Turbitt is MD of ProductONE, the local distributors of Pro/ENGINEER, a 3D software and design solution for the engineering, manufacturing and automotive industries. ProductONE is supported in South Africa by resellers Automated Reasoning (Gauteng) and CaddMan (KwaZulu-Natal and Western Cape).