UGS, a provider of product lifecycle management (PLM) software and services, has recently announced the release of Unigraphics NX3, the latest release of the company's software solution for digital product development.
Since acquiring Structural Dynamics Research Corporation in 2001, UGS' goal has been to imbue NX with all the capabilities of I-deas and Unigraphics. NX3 would be the version in which I-deas users would be able to migrate without the need for data translators. The software would not only be able to read I-deas 3D part and assembly models, but also read drawing files with complete fidelity and maintain the associative relationships between models and drawings. Thus, from now on Unigraphics NX3 will be referred to as NX3 only.
With NX3, UGS introduces a new look and feel with streamlined user interface, which has been designed to focus on user workflow, speeding simple design tasks and allowing organisations to easily customise their user environment to enhance productivity.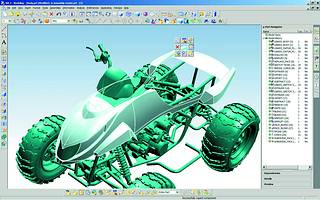 NX3 Arctic Cat Part Navigator
NX3 provides industry-leading model navigation tools that provide access to all feature information including design parameters, relationships and dependencies. Embedded knowledge can be accessed through the navigators to give a full understanding of product and process definition. Attributes of the new user interface include workflow-based design; on-screen interaction; power navigators; use of common tools; and it maximises graphics space.
In addition to the new user interface, NX3 contains many new capabilities and enhancements, including NX Industrial Design and Styling; NX Multi-Function Machining; NX DesignLogic; Common API for NX; NX Simulation Process Studio; and NX Managed Development Environment.