Siemens ICM has selected IBM and Dassault Systèmes PLM Solutions as its mechanical design platform for production of its cordless and mobile phone products.
Siemens will implement Catia V5, for collaborative product design, and Smarteam, for collaborative product data management. These IBM PLM Solutions, developed by Dassault Systèmes, will enable Siemens ICM to capture, share and re-use design information across its mechanical development and manufacturing environment, which includes operations in Germany, Denmark and China. Catia V5 and Smarteam will also help Siemens maintain a competitive advantage with superior technological know-how and product development tools.
"We undertook extensive efforts to compare and validate different mechanical design solutions," says Hermann Thonhauser, vice president for mechanical design and development IT, Siemens Mobile Phones. "With Catia V5, we have an application portfolio that is very powerful and gives us the most flexibility in terms of design possibilities and data reuse from one model to the next. The Smarteam product data management solution responds to our need to store, retrieve and share mechanical product data among our worldwide teams."
"Electronics manufacturers around the world are leveraging IBM PLM technologies to turn innovative ideas into business success," says Raoul van Engelshoven, vice president, IBM PLM, EMEA. "Our solutions allow electronics manufacturers to develop products in line with consumer trends, reduce turnaround time and create customer loyalty with quality products that are priced right. Accelerated time-to-market, innovation, additional revenue streams, and cost savings - this is what IBM PLM is all about."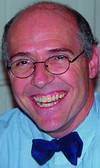 Raoul van Engelshoven, IBM