Xerox has introduced the Xerox 8160 and 8142 wide-format colour printers for printing of banners, posters and other large documents with widths of up to 150 cm.
The Xerox 8160 outpaces competing products with the speed setting required for final, saleable-quality prints, printing at 13,8 square metres per hour. The closest comparable system operates at 5,6 square metres per hour. The Xerox 8142 wide-format colour printer prints widths of 107 cm.
"Our goal is to continually introduce superior wide-format colour printing solutions," says Alewyn van Staden, wide-format product manager at Bytes Document Solutions, the sole authorised distributor of Xerox products in southern Africa. "With these latest printers, Xerox has expanded its wide- format portfolio to better meet the needs of customers in the graphic communications market."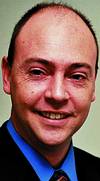 Alewyn van Staden
The Xerox wide-format colour printers can handle a range of indoor and outdoor printing applications such as posters, signs, banners, point-of-purchase and backlit displays. Both systems are targeted at graphic communications businesses, including quick-print shops and corporate reprographics centres, where image quality, printing speeds, and application flexibility are critical.
Two types of six-colour inks are available: dye for indoor use and pigment that lasts several months for outdoor use. The Xerox systems permit these inks to be changed quickly and easily by shop operations staff.
"A rapid evaporation drying system accelerates drying time to deliver final prints up to four times faster than competing systems," Van Staden says. "The rapid drying is also combined with an output take-up roll that wraps the final prints to enable long, unattended print runs; and the ink bottles are easily changed, enabling operators to install full ink bottles for overnight printing or other long print runs."
Offered as complete systems, with a choice of raster image processing (RIP) software with which to process files for printing, both models offer an industry benchmark total cost of ownership of up to 14% less than competing products, Van Staden says.
Xerox has also designed and pre-qualified a range of Xerox papers and specialty media products to help print professionals produce quality colour output from the 8160 and 8142 printers.
Van Staden concludes: "The Xerox products reduce time and expense by offering completely integrated systems. Over the past year, Xerox has also introduced four black-and-white wide-format printers - the Xerox 721, 510, 6030 and 6050 - which were designed for printing architectural and construction plans and renderings."