Cape Town-based 4M Consulting has installed its third Encad large-format plotter in a move to keep abreast with the phenomenal growth the company is experiencing.
According to managing director, Stephen Olckers, the company has experienced amazing growth in recent years, which has seen the company expand from just six people in the office to 40. This has placed a great deal of pressure on the existing plotters and hence the need to add an extra device.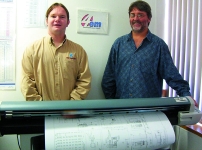 Donovan Tose, First Graphics and Stephen Olckers, 4M Consulting
4M Consulting is an electrical and mechanical engineering consulting firm, specialising in consulting on construction projects. The firm specialises in all electrical and mechanical building services and its design expertise includes electrical, electronic, airconditioning, mechanical ventilation, plumbing, drainage, lifts and fire services. The particular challenge of producing clear and well-defined wet services drawings has always been addressed by plotting these drawings in colour by 4M Consulting but the increase in volume proved to be too much for the existing plotters.
Olckers says: "When we were looking for a new plotter, we did have a look at other manufacturers, but our minds were already set on Encad. This is our third Encad plotter and we are constantly impressed with the products' reliability. Together with the superb back-up support from First Graphics, we have a winning combination."