Veli-Langa Print and Graphics, a black economic empowerment start-up company, has installed an Encad NovaJet 1000i large-format printer. Affiliated to Abacus Business Creations, Veli-Langa provides the print requirements to Abacus.
Servicing large corporate entities such as banks, cellular service providers and advertising agencies with their point-of-sale and exhibition branding requirements, Abacus and Veli-Langa share a lot of reciprocal work. Veli-Langa Print and Graphics is owned by sole shareholder Shamla Bhowan.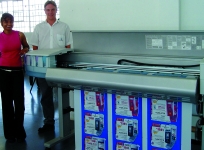 Shamla Bhowan, Veli-Lange Print and Graphics and Alistair McCulloch, First Graphics
According to Bruce Dinwoodie, owner of Abacus, the NovaJet 1000i was the only choice when considering a new press for Veli-Langa. This was based on the past experiences of Abacus with Encad and other makes of large-format printer.
"The Encad was the only option for us, primarily because of the relationship we have with First Graphics. We selected the NovaJet 1000i because of the vast technological improvements over the older Pro machines which we have," says Dinwoodie.
"This machine is simply faster and produces better quality prints. It is so simple to use. We often find that we battle to keep the machine busy because it is so fast that the jobs are RIPped and just print perfectly every time. We have seen a definite increase in productivity and value for money because of the higher quality of the printing."