The computer is the most effective tool to create paper documents and even as we endeavour to progress towards a paperless society, paper is still the most common way to store, handle and process graphic documents. In the dilemma to convert paper documents to electronic form, scanning is the one and only effective way to do so. The next dilemma is: once one has scanned a technical document, how do you action changes with the minimum of fuss?
Consistent Software believes that it has the answer. The Russian company, established in 1990, specialises in the field of hybrid (raster and vector) graphics. Its latest generation of products is based on technology of intelligent hybrid graphics and sophisticated object recognition algorithms, software designed to fill the gap between archives of scanned drawings and CAD/GIS vector-based graphics.
Two of the products currently marketed by the company are WiseImage and Plan Tracer.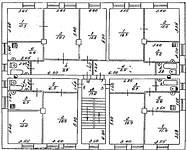 Source raster
The WiseImage series consists of a group of professional raster technology applications designed for high-end raster/vector/hybrid engineering of information. WiseImage for the CAD environment is an ARX-application for AutoCAD 2000 and AutoCAD LT 2000. It combines the power of AutoCAD, intelligent raster editing technology, raster to vector and vector to raster conversions.
Using any of the WiseImage V products, users can edit, update and semi-automatically convert to vectors scanned images, maps, drawings, sketches and other graphics. The beauty of using a product like WiseImage in the automatic process of raster to vector conversion, is that prior to running the conversion, one can see a preview of the results allowing the user the opportunity of fine tuning the parameters before conversion - a great timesaver.
Hybrid drawings consist of monochrome, grey scale and colour raster images overlaid with vector elements. Multi-Page tiffs are supported allowing many raster images to be loaded, and the number of raster images handled simultaneously is unlimited.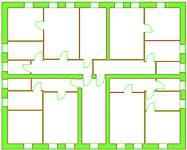 Result of conversion on 3D view
Clean up of raster images is carried out using a selection of filters including: smoothing, thinning and thickening, speckle removing and hole filling. Raster objects selection in WiseImage V makes raster editing as easy as vector editing. Any of these filters can be used in a batch process, allowing the job to be run on its own. Vector drawings can be imported into WiseImage or exported to AutoCAD .DWG or .DXF file formats, as well as into MapInfo.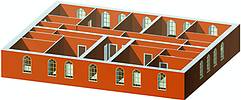 Result of conversion
PlanTracer
PlanTracer allows the user to scan a 2D plan of a building. After the insertion of information such as wall height and blocks for windows, doors, etc, PlanTracer automatically converts the scan file to a fully functional 3D file, within two minutes. If the scan is a poor quality original not all objects will be recognised, and the user might need to click on the entity to semi-automatically recognise it. After the conversion the user can render and perform walkthroughs. FM-Data (Facilities Management) is retrieved from floor plans.
Kinetic Distribution
083 661 4334