New search facility on cgweb.co.za
August 2003
Own Correspondent
Technews has announced that the search engine on all its online magazines has undergone a radical upgrade.
"The new facility is a part of a site-wide system upgrade," said online director, Graeme Bell. "The ability to be able to effectively search through the wealth of information contained on Technews many sites is critical to the effective use of the site. The new facility searches across all Technews' magazines simultaneously, providing a results page that can be sorted by a number of useful variables. The results page also allows the user to move seamlessly between Technews online sites."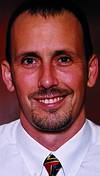 "Through our "search directory" facility, users now also have instant access to Technews' online buyers' guides from the front page of Dataweek, SA Instrumentation & Control and Hi-Tech Security Solutions," concluded Bell. "They can search for a supplier, brand or product without having to leave the page that they are on."
Others who read this also read these articles
Others who read this also read these news items
Others who read this also read these regulars