Epson SA hosted its third annual Channel Partner Programme Awards in September to acknowledge its channel, business and retail partners at the Sandton Convention Centre in Johannesburg. It was a night of networking, fine dining and entertainment after a tough but highly rewarding year.
The programme, launched in 2003, currently has a portfolio of 106 members. These members are divided into seven Gold Partners, 14 Silver Partners and 85 Bronze Partners throughout southern Africa. Partners are automatically entitled to, among other benefits, product marketing plans and information, point of sale material, demo discounts, print samples, provide rebates and product sales training.
"The programme aims to create new business opportunities and support business growth for the channel partners as well as assist and encourage them to achieve goals and targets for the year ahead," says Hans Dummer, general manager, Epson Africa.
The programme has a number of customer focus groups including Retail, Business, Specialist, Supplies, e-Commerce, Sub-Distribution and BEE. This year Retail Point of Sale Printers and Systems will be added to the programme.
Sizwe Business Networking was the top achiever of the evening, scooping three awards for Top Projector reseller, Top BEE reseller and Highest Growth. Waltons and First Graphics received two awards each that also recognised them as top resellers in various categories.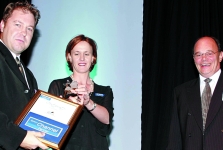 Andrew Allen, Sizwe; Belinda Wilson, Epson SA; and Nic Butler, GM Epson EMEA
Business Images, Bytes Technology Group, Colour Corporate, Compuden, Digital Planet, Drive Control, First Technology, Foto Cats and Incredible Solutions were also recipients of awards.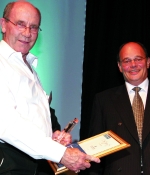 Rory Kelly, First Graphics and Nic Butler, GM Epson EMEA
"Epson SA extends its thanks to all its partners for their continued support, commitment and hard work over the last year. This year would not have been a success without them. We are confident in our channel's ability to meet and exceed their targets for 2006 and look forward to next year's awards," concludes Dummer.
The Epson Channel Partner Programme, previously the Team Epson Reseller programme, has had significant impact on Epson's revenue in southern Africa. Revenue for 2004/2005 increased by 117% against the previous year across the range of Epson products. The programme now accounts for 41,3% of Epson SA's total business in southern Africa.