On 8 September, at the Automotive Supplier Park Conference Centre in Rosslyn, CDC and IBM held yet another successful Catia Tooling Seminar. The theme of this year's event was 'Innovate with Catia', and it addressed not only the automotive industry but also the growing field of aerospace. This was a direct result of recent developments that have created significant new opportunities for local tool suppliers.
Now in its third consecutive year, this annual event was well attended, with over 100 delegates. This encouragingly indicates that the interest in and demand for Catia is growing rapidly, and local companies competing in the automotive and aerospace industries are becoming more aware of the necessity of having this industry-leading CAD/CAM solution.
As the delegates arrived, each received their conference material and had time before the seminar started to do a bit of networking with others involved in the tooling industry. The proceedings were opened by Gary Carroll, IBM's director of small and medium business, South and central Africa. He welcomed the participants and gave an introductory presentation in which he explained IBM's involvement in local small and medium business and IBM's growth and transformation from a hardware company to a service-led enterprise.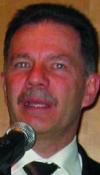 Gary Carroll, IBM
'Innovation' was the main topic of the seminar. Innovation is more than just a buzzword - it is a concept that needs strong emphasis and must be rigorously applied to meet the ever-increasing challenges in the tooling industry.
The first presentation of the day illustrated how companies are realising that they need to differentiate their products through innovation to help maintain profitability and growth. CAD/CAM technology is rapidly evolving, and companies need to keep up with the latest developments if they wish to remain competitive. These significant advancements in technology have spurred the constant innovation that has made Catia V5 what it is today.
Next on the agenda was an overview of the latest trends in the automotive industry. This highlighted the significance of the large proportion of tooling projects that SA loses to the emerging markets, especially China. Increasingly, local automakers are realising the need to compete on an international level and become globally competitive. The majority of OEMs overseas are already using Catia as their standard CAD/CAM solution and South Africa is rapidly following this trend - six out of the eight local OEMs are now communicating with their suppliers through native Catia data.
Guest speakers at the seminar included a number of local Catia users involved in tooling design and manufacturing for the automotive and aerospace industries. The first guest speaker of the day was Brandon Barron, metrology manager of BIW from BMW South Africa. He described their use of Catia and the current challenges faced at BMW. He explained that they are encouraging their suppliers to invest in Catia in order to reduce the time spent on - and the data lost through - conversions. BMW believes that it will make it a lot easier for both them and their suppliers if design data is exchanged in native Catia format.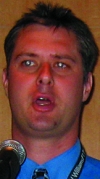 Brandon Baron, BMW
Catia's unique Generative Tooling concept enables suppliers to work together with the OEMs towards a fully virtual creation and simulation of their products and processes. CDC demonstrated the concept of generative tooling and the 'generative car', which have enabled tooling companies to shorten time-to-market by re-using existing company knowledge and design/manufacturing rules. This feature can enable companies to bring innovations to their customers faster and at a reduced price.
Next, Helmut Skarupke, design office manager from DaimlerChrysler (DC) in East London presented the SA tooling industry, particularly DC's suppliers, with a few important messages. He explained that Catia V5 has been specified as their official data exchange format. All suppliers are required to exchange CAD data via DaimlerChrysler's 'engineering portal'. DaimlerChrysler will in future insist that its suppliers use Catia so as to prevent the inevitable errors from occurring during translation.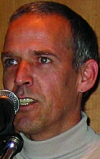 Helmut Skaruppke, DaimlerChrysler
The next presentation was an overview of the aerospace industry. CDC addressed the current industry trends, and the opportunities that have arisen for local tooling projects. The leading aerospace OEMs are insistent that it is of strategic importance for all design, manufacturing and in-service processes be fully integrated throughout the lifecycle of the product.
Following this, Robert Roode, manager of industrialisation from Denel Aviation delivered a presentation on the opportunities that exist in the SA Aerospace industry for the Airbus A400M project. Roode said they prefer their suppliers to implement their tool designs and manufacturing on Catia V5 to aid integration.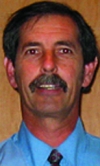 Robert Roode, Denel Aviation
Next, CDC simulated the complete mould design and manufacturing process. This covered the analysis of a 3D part, handling of a request for quotation, and the design and NC machining of the tool itself. Using Catia V5, the mould design and the component design can be delivered at the same time because one system is used for the entire process, thus avoiding costly translation-related problems. CDC's application engineers also demonstrated the usage of Catia for press tool design. By making use of Catia's 'knowledgeware' feature, companies are able to optimise this process by using pre-defined rules and company standards.

The CDC team
The following speaker was Werner Berger, managing director of Werma Patterns and Moulds, who related his company's inspirational success story - on the verge of closure, he invested in Catia and Werma has since gone from strength to strength over the years. By offering what the industry was demanding, he transformed his business from being a pattern shop into a leading tooling manufacturing company.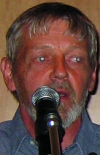 Werner Berger, Werma Patterns and Moulds
CDC's second realtime simulation featured the design and manufacture of jigs and fixtures. The design process was carried out using generative tooling technology; the simulation of a welding station was demonstrated by using Delmia, which is an integrated component of Catia and a key part of IBM's product lifecycle management (PLM) product portfolio. Delmia is used by the majority of OEMs and suppliers for manufacturing simulations.
The final demonstration featured the use of Catia's revolutionary shaping and styling solution for product design. This was a fun and creative demonstration which illustrated how 'artistic' ideas can be directly incorporated into actual designs - styling shapes can be conceptualised, and it offers a highly original solution for the exchange of 3D views of parts and assemblies.
During the course of the event, two extremely significant video clips were shown, featuring interviews with top-level executives from two world-renowned companies - Airbus Industrié, and McLaren F1 Construction. Both these companies were forced to review their choice of CAD/CAM facility, both carried out exhaustive and intense benchmarks - and both ended up choosing Catia to replace their then-existing systems.
The feedback from the seminar has been extremely encouraging, and indicates that people in the tooling industry are eager to learn and share knowledge.