The first ever Document Management Survey in South Africa has discovered that companies in the country habitually overproduce and discard approximately 20% of their paper document output.
As documents constitute, on average, 10% of companies' annual expense budgets (see survey results), somewhere in the region of 2% of South Africa's total gross domestic product of R673 billion* - around R13,5 billion each year - is wasted by companies on unwanted and unused paper documents. The new survey, commissioned by Xerox SA, was targeted at South African manufacturing, finance and service sectors. These sectors have a combined gross annual product of R407 billion* and so have a potential annual saving of approximately R8 billion.
"By adopting more effective document management processes South African companies can make substantial economies," says Pierre Nothard, General Manager Xerox SA. "By working on-line, rather than on paper, companies improve document quality and productivity, minimise storage and archiving expense and save time and money."
There was almost unanimous agreement on the crucial role that efficient document management plays in maximising productivity (99%) and improving company image (94%). However, surprisingly few companies (36%) had analysed their document production processes, let alone implemented any changes. Only 60% of companies had someone specifically responsible for document management.
Nonetheless over 50% of the respondent companies did report that they are planning changes to their document management processes and over 90% of these planned changes are to digital technology.
"We are on the threshold of a major change in South Africa," says Pierre Nothard. "Companies across the country are going digital - from buying a modest digital printer to investing in powerful networked digital document management and knowledge management systems".
Companies that already have digital systems in place listed speed as their single greatest advantage. Other major benefits included increased efficiency, improved quality, ease of use, reliability and upgradability.
Findings in detail
The survey provides a comprehensive picture of current document management practice and trends in South Africa. To ensure accuracy it was distributed to a broad sample of manufacturing, finance and service sector companies across the country.
90% of the respondent companies agreed that efficient document management was crucial to their productivity and 94% saw document quality as important to their business image. But this high level of awareness is not often reflected by action.
Only a third of South African companies have analysed their document production processes.
Almost 60% of South African companies have no one specifically responsible for their document production.
Less than a third of South African companies have a centralised print department.
The survey also found that there is presently no recognised core management discipline with responsibility for document management within South African companies.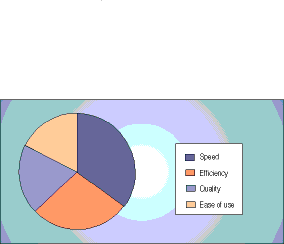 The four top benefits of digital document production (response proportions)
The real cost of documents
Documents constitute about 10% of total expenditure for most South African companies. And that is before labour costs - the third largest document production expense - are taken into account.
80% of companies reported that they waste up to 20% of their paper documents. So a company with a R500 million annual turnover, for example, will typically waste R10 million on unnecessary paper documents each year. The potential savings of working with documents on-line are substantial.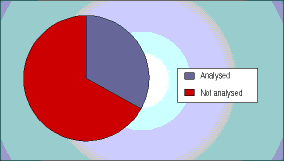 Proportion of companies that have analysed their document production processes
The benefits of change
Over half of the respondent companies are presently planning changes to their document management processes and over 90% of the changes planned are digital - ranging from installing a simple digital copier/printer to implementing fully networked digital document and knowledge management systems.
Companies with digital document management systems already in place reported that the systems increased customer response times, reduced document retrieval times (80% within an hour, as opposed to just 20% with paper), decreased the proportion of paper documents printed and increased document quality.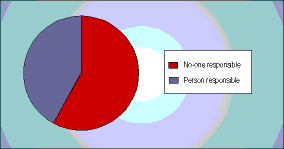 Proportion of companies with an individual responsible for document production
Speed
Speed was seen as the greatest advantage of accessing documents on line, with 82% of respondents reporting it a benefit. Companies with digital systems were able to locate stored documents within an hour at least 60% of the time. Paper document retrieval was far slower in comparison, with only 29% of stored documents located within an hour and over 20% taking upwards of a day to find.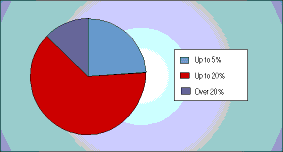 Proportion of paper documents wasted by companies each year
Archiving and storage
Archiving and storage, along with receipt and duplication, was considered the most important - and expensive - aspect of document management by many companies, but the extensive archiving and storage potential of digital document management systems was only recognised as a major benefit by 2% of companies. 86% of companies will store the majority of their documents in paper form, only 14% electronically.
Quality
Nearly half of all companies - 80% in the finance sector - considered increased document quality a benefit of digital systems. But the colour benefits of digital systems were much under-employed, with well over 50% of companies using colour only rarely, if at all, in their documentation.
There was also low awareness of the reliability and upgradability advantages of digital systems, with only 33% and 18% (respectively) of companies listing them as benefits.
For further information or for a copy of the full report contact Paul Arrowsmith or Tammy Dickinson, Woodside Communications, tel: (0944) 171 435 0901 or David Dyas, Xerox SA, tel: (011) 928 9104.
*1988 figure from South African Reserve Bank quarterly bulletin, June 1999.
1988 figures - see above source. Manufacturing - R127 461 million, Service - R155 795 million, Finance - R124 120 million.