Unexplored dimensions in market analysis based on geographic information now a reality for marketers.
Digital mapware supplier, MapIT, has announced the launch of its new software package which allows companies to see at a glance how their clients, branch networks - and those of competitors - are distributed geographically.
The new product, MarketScope, displays information, based on pre-loaded data, visually on a detailed digital map. Thus, the latest census information as well as various research databases, such as the living standards measures (LSMs), incomes, ages, education levels and a host of other statistics for every household and region in the country, can be studied as a single graphic interpretation of thousands of entries on a spreadsheet.
In the age of information explosion and technological advancement, ubiquitous location-awareness is a significant feature in communication in the global village. 21st century companies are taking the next step in the technology revolution by enabling many key business processes to be conducted via mobile devices such as Web-enabled phones, personal digital assistants and pagers. In the pursuit of new and innovative ways to create differentiation, one of the best ways to accomplish this is through the delivery of highly personalised services. One of the most powerful ways to personalise services is based on exploiting location-based data.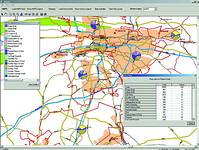 Imagine being able to calculate virtually any demographic scenario for your marketplace, taking into account a variety of factors, including your customer profiles, census information, competitor analysis data and any other set of business-related statistics you wish to evaluate, and visually display the results, arriving at an answer within 30 seconds?
Marketscope can do this. A tool where product and customer numbers, geo-demogragraphic and traditional marketing data are integrated into one application, Marketscope represents all of this visually on an easy-to-follow mapbase in the style of the MapStudio street guide.
Business managers, marketers, media planners and researchers are able to compare, contrast and evaluate market information using digital mapping technology as developed by MapIT. This innovative mapping and market analysis tool gives the professional marketer the ability to examine endless spreadsheets, tables of figures and pie-charts in a visual format revealing marketing intelligence previously unavailable. Drawing informed conclusions from an array of thematic maps and map charts is possible as the inner relationships of company data and market numbers reveal themselves according to geographic location.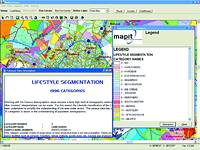 The software allows users to zoom in on any part of the map to amplify the detail. The zooming capability even extends from a full-detail map of South Africa, down to street level. Using cutting edge geographic information systems (GIS), MarketScope allows companies to load their client database onto the system and have it visually represented on a digital map. MarketScope also allows companies to locate their branch networks, and those of competitors, on the map. Each branch is represented by an electronic flag, while competitors' locations can be represented by flags of a different colour. By clicking the mouse on any electronic flag, the user is able to access contact and other information on each branch.
MD of MapIT, Ray Wilkinson is upbeat on the introduction of his brainchild, "MarketScope allows users to answer the questions - where are our customers? Who are they? Where are our competitors? Where should we enter or exit new markets and what is the potential for our new product?"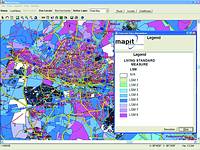 The functionality of MarketScope includes a rich toolset that allows users to carry out these and other functions:
* The ability to display any data in a geographic context by linking it to a digital map.

* To locate street addresses, suburbs and towns on a screen-based map, or to find a location based on X and Y co-ordinates.

* Calculate summary information for specific areas.

* Select customers within specific areas, or within a certain radius.

* Segment customers according to pre-selected categories and locate them on a map.

* Solve problems regarding location of a new outlet.

* Estimate market potential.

* Use mapping and data analysis tools to assist professional marketers in comparing, contrasting and analysing their own data on customers, sales and performances with census, lifestyle and geo-demographic data.

* Pinpoint where competitor stores are located, and site new stores looking at various criteria.

* Create radial catchment areas and do location analysis by store catchment area.

* Shade customer hot spots on your maps to help clients determine the best locations for direct mail and canvassing.

* Select sites that will be optimised relative to the physical locations of clients, markets, future growth, transportation infrastructure, already existing point of sale.
The product allows users to carry out detailed geo-location analysis of their customers, competitors and potential markets. It allows for detailed customer and competitor profiling using the MarketScope mapping system, and can be used to assist in targeting new product and service launches.
"This is an extremely powerful tool for researchers, sales managers, company planners, executives, transport managers - in fact, anyone who needs to have census, client, branch and other data visually represented on a map," says Wilkinson.
The MarketScope Analyser allows the user to compile profiles of different market segments based on age, education, employment status, income, language and several other categories. Users can select click on any point on the map and carry out a spatial analysis within a five (or 10, or 100) kilometre radius. The spatial inquiry can be limited to say shopping centres or petrol stations with a five kilometre radius.
Another powerful tool is the MarketScope Router, which is designed to help companies optimise transport routes to save on fleet wear and tear and fuel costs. The map database categorises streets according to quality ratings, which means the shortest route may not always be the most cost effective. Transport managers can then redirect trucks to better quality routes and so save on maintenance and other costs.
While GIS systems have been available for many years, none have access to the full library of maps that MapIT has, updated regularly to take account of new housing and street developments. This map library has been digitally captured by MapIT and adapted for the desktop environment. As new research and census databases become available, these too are integrated into MarketScope.
Wilkinson says the functionality of MarketScope is probably unmatched by any other commercially available digital mapping system anywhere in the world.
The system can also be loaded with All Media Products Services (Amps) data to show where readers of different newspapers and magazines live, and the location of TV viewers and radio listeners (for each different channel). This information can be plugged into census and other databases to give researchers powerful insights into existing and potential markets.
All this is being made available to subscribers for R5000 a month, which excludes initial set-up costs.
"We have pitched our launch price at R5000 to make it attractive for clients to subscribe. We think all companies can make use of this system. For R5000 a month, clients now have access to a very powerful desktop tool to assist them in analysing their markets, their market gaps, their clients and any other information they might find useful.
"This product is capable of doing in a matter of hours what it would take a team to do over days or weeks. The productivity benefits are huge," states Wilkinson.
For more information contact Map Integration Technologies, 012 345 8020,
www.map-it.co.za