GIMS recently announced the release of ESRI's ArcLogistics Route 3, in conjunction with a South African street database.
This is available for selected metropolitan areas and forms a complete logistics and routing solution aimed at logistics and fleet managers. It offers a solution that will help businesses and organisations deliver goods or services more efficiently, reduce costs and improve customer service. ArcLogistics Route will, furthermore, integrate with existing GIS or Corporate information systems such as SAP R/3.
ArcLogistics Route is a complete, out-of-the-box solution for complex vehicle routing and scheduling problems. ArcLogistics Route uses actual network drive times instead of straight-line (Euclidian) distances. This results in accurate estimates for route sequencing with an associated reduction in mileage. The scheduling results can be viewed with other spatial data to visualise the interrelationships between logistical and other relevant information.
The objective of ArcLogistics Route is to determine which vehicle should serve each stop in such a way that time window violations are minimised, total travel time by the fleet is minimised, and vehicles do not exceed their volume/weight capacity. In addition, an intelligent geocoder automatically matches a delivery address to a location in the organisation's service area, eliminating time wasted attempting to make a delivery to an incorrect address.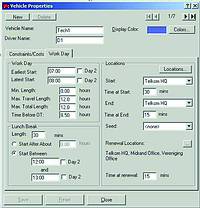 Vehicle properties
ArcLogistics Route builds intelligent routes based on actual network drive times, taking into account characteristics of vehicles and customer orders. The scheduler specifies the start, renewal points, and end locations of each vehicle; the capacity of the vehicle; start times, maximum orders, length of workday, and specialty of the vehicle or driver.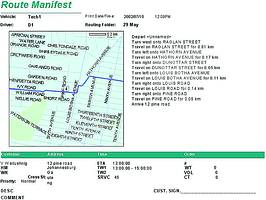 Summary of route, times and customer details
The scheduler can also specify exactly how long a route lasts, determine lunchtime within a time window, and assign orders and vehicles as many specialties as desired. Other parameters that can be specified include the volume and weight of items, service time, and requested time window. Based on information entered by the scheduler, ArcLogistics Route constructs a route that optimises time and space usage. By assigning orders to appropriate vehicles and drivers, delivery costs are reduced and better service to customers is provided. Grace periods and second time windows are also available to optimise the routing solution when working with a complex logistical problem.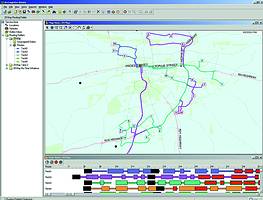 Routes and time windows for each route
Businesses and organisations can tailor ArcLogistics Route to their needs with driver/vehicle specialties, operating costs, and custom reports. Users can also connect to popular databases through the ODBC standard and directly to SAP R/3. Using Seagate's Crystal Reports, route summary reports, stop vicinity and route overview maps, street-level directions, and driver manifests can be generated. After finalising the routing schedule, users can export routes and schedules back to their databases.
Street Data for the following metropolitan areas is available for use with ArcLogistics Route:
* Gauteng.

* Cape Metropolitan Area including Paarl and Stellenbosch.

* Port Elizabeth.

* East London.

* Durban and Pietermaritzburg.

* Bloemfontein.
This data offers a navigable geo-coded street database for South African metropolitan areas. Shipped in Hartebeeshoek94 format, it includes variables such as overpasses, underpasses, one-way streets, speed limits and turn restriction conditions. The dataset, furthermore, includes address-coded street, which allows one to locate customers/deliveries based on street addresses.
How does ArcLogistics Route build routes?
ArcLogistics Route builds routes by using the following processes:
* Clustering: The orders are grouped into clusters that will form a first set of trial routes. ArcLogistics Route uses seed locations to build clusters. If the user does not provide a seed location for a vehicle, ArcLogistics Route will use geometry to find a good centre for that vehicle's cluster.
* Sequencing: ArcLogistics Route puts the orders on each route in the best sequence by moving orders earlier or later on the route.
* Swapping: ArcLogistics Route moves orders from one route to another to find the best assignment of orders to routes.
Clustering is done once to get a first set of trial routes. Sequencing and swapping are automatically done many times, until the best schedule is determined, based on user costs and time window importance.
ArcLogistics Route is available for Windows 95, 98, 2000, and Windows NT 4.0/2000 or higher. An Intel Pentium III processor or higher and 128 MB of RAM is recommended.
For more information: GIMS, 011 695 0400.