The recent International Map Trade Association Global conference and trade show recently held in Val de Loire, France, was a gathering of world opinion leaders from the mapping, cartographic and geospatial world. The modern-day pioneers and explorers.
South Africa was well represented by Ray Wilkinson, MD of MapIT, providers of data solutions in the GIS and electronic mapping industry for SA and Africa.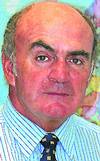 Ray Wilkinson, MapIT
As one of the featured guest speakers at the conference, Wilkinson laid emphasis on the advancements that have been made by SA in this field, covering the process used to gather mapping data for the African continent, highlighting the massive potential there is for growth, particularly with the assistance of electronic mapping technology to develop growing economies. In a one-hour talk entitled: 'A journey of a thousand miles begins with a single step', Wilkinson took a look at how the fusion of time and space has intimately tied us to mapping and whilst others were exploring the surface of Mars and the Spirit Rover was taking its longest trip, cartographers were endeavouring to understand the world by depicting it in map form back here on planet earth.
With many eyes on Africa, he stated that we are to treat the mapping of Africa in a global way and this inclusive contextualisation will therefore bridge human history for the continent.
Urging attendees to take their destinies into their own hands by protecting their intellectual property (that of their mapping data) as we have in Africa, he gave examples of how MapIT is promoting the unique skills of cartographers of the world covering Africa related points such as:
* Impact on spatial development.

* Pressing need for geolocated information.

* Mapping requirements of businesses operating in a competitive economy.

* Need to keep pace with global trends.
Delegates found the process of capturing and digitising information from aerial photography, satellite imagery and printed maps interesting, as Wilkinson went on to delineate MapIT's involvement in the protection and promotion of Africa's greatest asset, its wildlife, and the significance spatial data will play in the emergence of Africa as a competitive global economy:
* The influence of land usage on the ecology.

* The habits of fauna and flora.

* Collaring and tracking of wildlife to show feeding/migration patterns.

* Physical threats to and opportunities for tourism areas.

* Identification of population movement and the impact this has on conservation areas.
Concluding with a stirring video on SA's Peace Park initiative, Wilkinson delineated the opportunities in establishing a common platform for information and communication in order to get all stakeholders working towards a common goal. the preservation of the Great Wilderness of Africa.
The success of Wilkinson's attendance was broader than a showcase for MapIT and its unique technology, but also brought to the world the advancement that South Africa has made in this arena.
For more information contact Map Integration Technologies, 012 345 8020,
www.map-it.co.za