In September 2002, Spatial Dimension's holding company, Mineral Services, was awarded a contract by the state-owned diamond mine, Alexkor, to provide the Mineral Resources Department (MRD) with competent and professional technical services. The company immediately deployed staff to perform key services in the geological, operational, GIS and IT environments at the mine.
To date, Mineral Services and Spatial Dimension have completed numerous projects that were designed to look at the specific needs of Alexkor and to provide effective and simple solutions to help resolve the problems identified in an initial user needs assessment undertaken at Alexkor.
FlexiMine
One of the first projects undertaken was the customisation and implementation of Spatial Dimension's integrated diamond mining system, FlexiMine. Working closely with the mine's marine production manager, Pottie Potgieter, and mineral resource manager, Geoff Davies, Spatial Dimension added additional functionality to FlexiMine to help manage and track the 100 independent contractors that mined the shallow water areas on behalf of Alexkor. The system went live on 11 December 2002 and has been in 24/7 operation ever since.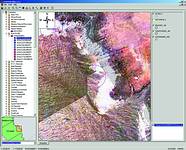 Figure 1. FlexiMine
FlexiMine provides tools for the rapid registration of mining or prospecting blocks and the automatic generation of the required documents and SMS alerts and confirmations. Conflicts are reduced by keeping all the information in the central SQL Server, and by enforcing rules to ensure that blocks can only be registered in a way that does not interfere with other contractor's blocks.
Potgieter says one of the biggest benefits is the overall improvement of communication between the contractors and the mine.
AIMS
In conjunction with the roll-out of FlexiMine, Spatial Dimension undertook a project to bring together the various technical, production and management databases that existed at Alexkor and integrate them into a single SQL Server database with a Web-based front end accessible to all staff on the company intranet. The intranet system, called AIMS (Alexkor Information Management System) is now used to capture all information relating to the company, sub-contractors, land and marine operations, production and environmental information. For the first time, management and operational staff have a realtime 360° view of operations. AIMS currently stores the details and production record of over 36 000 discreet marine mining locations as well as over 52 000 trench sections and 26 000 boreholes on land.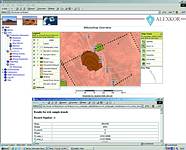 Figure 2. AIMS