The City of Cape Town is the first South African megacity to initiate a geographical information systems (GIS) project for the storage and retrieval of its road and stormwater plans.
The pilot project, which involved scanning, storing and indexing 5000 plans, was successfully completed last year (2004). The second phase of the project - to get 20 000 additional historical plans online before financial year end in June 2005 and introduce a process to capture and store all new plans online - is underway.
Empowered GIS specialists, DLK Spatial Information Systems, is making a crucial contribution to the success of the Visual Plan Storage and Retrieval System (VPSARS), firstly by managing the planning workshops to develop the system and then, by leveraging its experience in this field, to design and develop the pivotal database that will facilitate fast and easy access to specific maps.
Rodney Steinhofel, manager, Transport Information in the city's Directorate of Transport, Roads and Stormwater, launched the initiative last year to improve the access to information by the municipality's engineering staff and the public.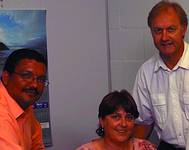 DLK Spatial Informations Systems director Alan Meyer, Sue Binedell, GIS Consultant, and Rodney Steinhofel, manager, Transport Information, Directorate of Transport, Roads and Stormwater
"Cape Town wants to set the pace nationally on becoming a smart city, and being able to give fast and reliable access to information - not only to our staff - but also to the public is crucial in delivering on that goal," he said.
Currently, roads and stormwater maps are stored in 10 district offices around the 2457 sq kilometre city. Accessing a map can take days. The first step is to accurately determine at which office it is held and then visiting that office.
"This situation has been aggravated during the past 10 to 15 years with consolidation of municipal boundaries. Cape Town comprises many former local councils that were merged into seven municipalities, which have now been consolidated into the new City of Cape Town. Maps frequently moved offices as local authority boundaries changed and pinning down a map's location is a time-consuming, manual slog.
"Engineering staff typically made copies of plans and stored these duplicates in their own offices, giving them unique file numbers. This led to a waste of space and, while we were diligent in co-ordinating the different file numbers per plan, leant itself to jeopardising the integrity of the information we work with.
"My underlying aim is to improve the department's knowledge management by streamlining the process of storing and accessing spatial information, and ensuring its integrity. The new GIS system will help people quickly and easily access original plans irrespective of district boundaries. This could be achieved by having a Sequel Server-based application that was central and easily accessed."
The new procedure being implemented will capture and spatially locate each plan, irrespective of which district it is currently in. New plans logged at the city's district offices will be scanned, indexed and available online within 10 working days of receipt. Once plans are scanned they will be archived on premises with lower rentals than the current A-grade office accommodation in which they are currently stored.
The plans are scanned into a .pdf format and the geographical location of the plans is captured as a polygon in ArcView.
Pivotal to the ease with which scanned maps are stored and retrieved is an Access database designed by DLK Spatial Information Systems' GIS consultant, Sue Binedell, in collaboration with the department's staff. This captures in a consistent manner all the information from the scanned plan, such as plan number, as built date, consulting firm and key words.
The database and geographically located shapefiles are then integrated with the department's infrastructure management system (IMS), which is easily accessed on the desktop and customer-access counters via the city's intranet.
The user-friendly interface allows users to search either the database on any of the captured fields or to use the map tool and zoom in on the area and select a polygon. Once a selection has been made, a thumbnail of the scan is shown and this can be downloaded or printed.
Steinhofel says Cape Town's current budget covers the costs of implementing the procedure to scan and catalogue new plans henceforth, and the scanning and cataloguing of 20 000 of the city's 85 000 historical plans. Should budget be allocated in the 2005/06 financial year for continuing with the capture of historical plans, this will be done on a district-by-district basis. It is estimated that capturing all the historical plans will take about three years.
DLK Spatial Information Systems will continue to play an important role in the cataloguing of new and historical plans as the department's project progresses.
Binedell says that the City of Cape Town's initiative should set an example to other spheres of Government working with spatial information. "It is crucial that we break down the silos of information within - and between - governments because we need to work smarter in cost-efficiently addressing the development needs of the nation and in maintaining the integrity of the existing services infrastructure."
Steinhofel says that collaborating with DLK in developing and implementing the VPSARS ensured the directorate benefited from the company's GIS experience. "The experience they brought to the table ensured that we did not waste time experimenting with ideas. We were not guinea pigs and that ensured that we streamlined the design and development phases, enabling us to rapidly implement a solution tailored to our needs."
For more information contact Alan Meyer, DLK Spatial Information Systems, 021 531 9403,
www.dlkgroup.com